Encrypt and protect your Mac files easily with goSecure

goSecure is your easy-to-use encryption solution, offering you
security and convenience
. goSecure gives you
peace-of-mind
by encrypting your sensitive information, so nobody else can access it without a password. goSecure uses
industry-standard AES
encryption (256-bit or 128-bit) to keep your files from prying eyes. Sit back and relax, no one can break into your important data.

Version 1.2
Universal Binary (3.0 MB)
For OS X 10.4 (Tiger) or 10.5 (Leopard)

Free Download - Purchase
30-day Demo
goSecure also gives you convenience at your finger tips. goSecure is designed to be
easy-to-use
- simply drag and drop the files you want to protect, enter a password of your choice, and goSecure will handle the rest.
goSecure version 1.2 is available for US$ 19.99 now. Hurry up,
purchase
goSecure, protect your data and be assured that
your secrets are safe
.
Features

•
AES Encryption - Secures your files and gives you peace of mind
Utilizing 256-bit

or 128-bit AES encryption algorithm, there is virtually no way to get to your files without knowing the password.
•
Drag and Drop Workflow - Easy and simple to use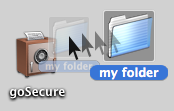 Encrypt and decrypt your files in only 2 steps: Drag the file, and enter the password. You can drop the file to the goSecure icon, the dropbox in goSecure, or double-click an archive to decrypt.
•
Compressed Archives - Saves disk space and bandwidth
Archives are zipped to save space before being encrypted. goSecure can handle multiple files and folders.
•
Secure Deletion - No one can salvage what you want deleted
Delete original files securely with 7-pass or 35-pass overwrite. Now your valuable data is available only in its encrypted form.
•
User-specified Path - Easily backup your important files
Encrypt and backup your files to a path you specify, or use it to easily manage your archives. You can also add an optional timestamp.
•
Automatic Updates - Have all the newest features at your fingertips
Configurable to check for updates automatically. goSecure will check, download and install the update. No complicated upgrade procedures.

•

Universal Binary - Fast and reliable execution

Latest technology makes sure the software works as fast as possible and make use of the newest and oldest computers.


Join our newsletter:


Got Files?

Quick Links

Got your financial information and personal data stored in your computer? Working on your latest business ideas and proposals? The amount of cyber fraud has been on the rise at an alarming rate and you cannot afford losing critical information that worth millions.

Modern complex computer networks and the Internet makes hacking and stealing files much easier, and saving sensitive files on your computer is no longer safe. Your data can get into wrong hands easily - a confidential document sent through email can be eavesdropped, and a hacker can gain access to your computer.

Losing your files is even worse. Imagine having your collection of pictures and emails vapourizing when your hard drive fails. It is like flushing your hard work down the toilet; years of work and memories gone. A reliable backup plan is essential for everybody.

Keeping your files safe!
goSecure is an application developed for Mac OS X that encrypts and decrypts your sensitive data so nobody else can access it without a password of your choice. goSecure uses secure AES encryption (more info about AES), one of the most advanced encryption algorithm currently available. AES is a symmetric key encryption chosen by the NSA for classified data and is widely used by agencies and companies worldwide.

With the industrial-strength security provided by goSecure, you can rest assured that your information is kept safely away from prying eyes.
Get a copy of goSecure now for only US$19.99 and enjoy the feeling of security.
Do not hesitate anymore! goSecure is available with a 30-day free fully functional trial.
Order Now
, or
download
your copy and try it out yourself!
Volume Pricing available
: please
contact us
for a quote.
---
&copy 2008 GoGoalSoft Limited. All Rights Reserved. Sitemap